Vienna Youth Sports Day 2023
THE VIENNA YOUTH SPORTS DAY AT THE SPORTCENTER DONAUCITY WAS A GREAT SUCCESS!
07/03/2023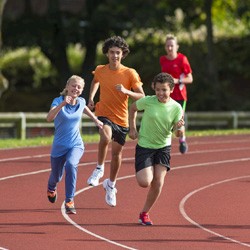 Hundreds of young sports enthusiasts gathered to have fun together and show off their athletic skills. From soccer to basketball to padel tennis and many other sports, there was something for everyone. The atmosphere was energetic and full of enthusiasm. Participants were able to make new friends, improve their skills and ignite their passion for sports. The Vienna Youth Sports Day was a fantastic opportunity to bring young people together and celebrate the importance of sports and exercise. It was a day full of fun, games and athletic performance that will surely be remembered for a long time!
You can find a video clip at the following link: https://www.w24.at/News/2023/6/Wiener-Jugendsporttag-2023
Galerie
SPORTCENTER DONAUCITY – Federal Railway Sports Club Vienna
Arbeiterstrandbadstraße 128, 1220 Vienna
Phone: +43 1 269 96 30 | Fax: +43 1 269 96 30 20
E-mail: office@sportcenter-donaucity.at
Chamber of Commerce: Vienna | Commercial Court: Vienna | VAT number: ATU16366304
BASIC DIRECTION
The website of Sportcenter Donaucity - Federal Railway Sports Club Vienna provides information about the company and its services. In addition, it reports on current events that affect the direct operation.
DISCLAIMER
No liability is assumed for the content of external links. The operators of the linked pages are solely responsible for their content. If, despite careful control of the content, it is found that there are links to pages with illegal content, we will remove these links from our website immediately.
IMPRINT | DATA PROTECTION | SPORTS FACILITIES REGULATION (German language only)
Copyright © 2022 Sportcenter Donaucity – Federal Railway Sports Club Vienna. All rights Reserved.