Sommersaison 2023
FEEL LIKE DOING SOME OUTDOOR SPORTS?
04/20/2023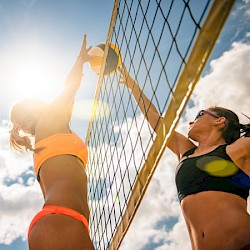 In a few days it's time ... on Monday, April 23 start this year's summer season. 
Starting Monday, our full range of sports facilities will be available again.
16 artificial turf soccer fields
5 grass soccer fields
1 artificial turf hall
1 parquet hall
9 outdoor tennis courts
5 carpet tennis courts
4 indoor sand courts
13 beach volleyball courts
and much more.
Our current price list for the summer season 2023 (only in German) can be downloaded here as a PDF.
SPORTCENTER DONAUCITY – Federal Railway Sports Club Vienna
Arbeiterstrandbadstraße 128, 1220 Vienna
Phone: +43 1 269 96 30 | Fax: +43 1 269 96 30 20
E-mail: office@sportcenter-donaucity.at
Chamber of Commerce: Vienna | Commercial Court: Vienna | VAT number: ATU16366304
BASIC DIRECTION
The website of Sportcenter Donaucity - Federal Railway Sports Club Vienna provides information about the company and its services. In addition, it reports on current events that affect the direct operation.
DISCLAIMER
No liability is assumed for the content of external links. The operators of the linked pages are solely responsible for their content. If, despite careful control of the content, it is found that there are links to pages with illegal content, we will remove these links from our website immediately.
IMPRINT | DATA PROTECTION | SPORTS FACILITIES REGULATION (German language only)
Copyright © 2022 Sportcenter Donaucity – Federal Railway Sports Club Vienna. All rights Reserved.