Competition
WIN GAME CREDITS WORTH € 800 FOR YOUR FAVORITE SPORTS AT THE SPORTCENTER DONAUCITY AND MANY MORE SPORTY PRIZES!
07/24/2023
The other prizes that you can win are:
400 € game credits
200 € game credits
1.5 hours of soccer (on a third field)
Combi monthly pass for the Sport­center Prater­stern
2 hours of beach ­volley­ball
1 hours of padel tennis
TERMS AND CONDITIONS:
Disposal of an own Instagram account, with which the account @sportcenterdonaucity can be followed in the period June 28 - August 31, 2023, the competition post can be liked and shared in the story. Participation at 18 years, people from the age of 17 can participate in the competition with the consent of the parent or guardian. The winners will be informed and announced by direct message after the draw on August 31, 2023.
This competition is not affiliated with Instagram/Meta.
Galerie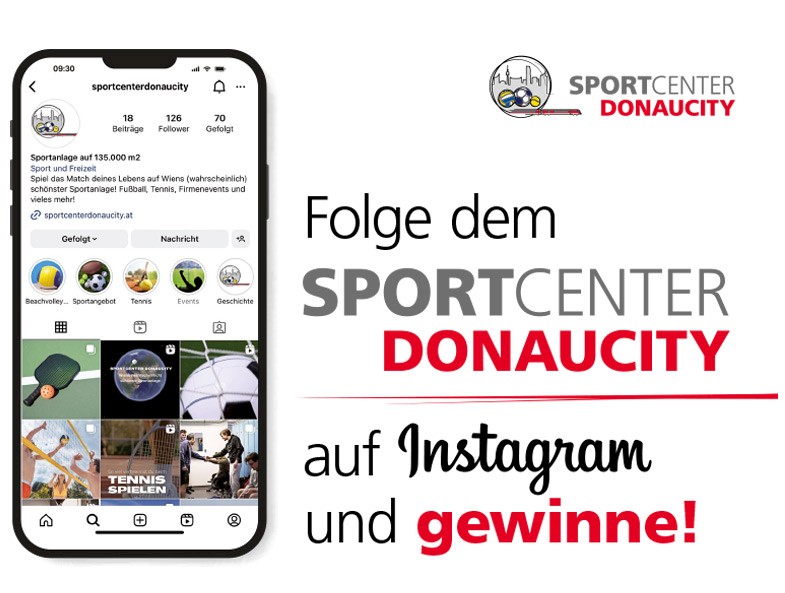 SPORTCENTER DONAUCITY – Federal Railway Sports Club Vienna
Arbeiterstrandbadstraße 128, 1220 Vienna
Phone: +43 1 269 96 30 | Fax: +43 1 269 96 30 20
E-mail: office@sportcenter-donaucity.at
Chamber of Commerce: Vienna | Commercial Court: Vienna | VAT number: ATU16366304
BASIC DIRECTION
The website of Sportcenter Donaucity - Federal Railway Sports Club Vienna provides information about the company and its services. In addition, it reports on current events that affect the direct operation.
DISCLAIMER
No liability is assumed for the content of external links. The operators of the linked pages are solely responsible for their content. If, despite careful control of the content, it is found that there are links to pages with illegal content, we will remove these links from our website immediately.
IMPRINT | DATA PROTECTION | SPORTS FACILITIES REGULATION (German language only)
Copyright © 2022 Sportcenter Donaucity – Federal Railway Sports Club Vienna. All rights Reserved.