Opening 3x3 basketball courts
THE NEW 3x3 BASKETBALL COURTS AT THE SPORTCENTER DONAUCITY OFFER THE BEST PLAYING CONDITIONS FOR ALL BASKETBALL ENTHUSIASTS IN VIENNA.
06/13/2023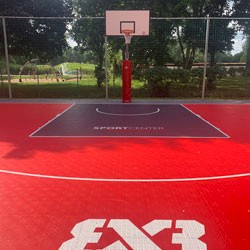 The Donaucity Sports Center celebrates the opening of two brand new 3x3 basketball courts. These modern facilities now offer sports enthusiasts in the city even more opportunities to pursue their passion for basketball.
The opening of the courts comes just in time after the exciting event of the recent 3x3 Basketball World Championship at the Rathausplatz in Vienna. The World Championship, which was held with great enthusiasm and numerous participation, has further increased the popularity of the 3x3 basketball format.
With the opening of the new basketball courts at the Donaucity Sports Center, this enthusiasm is now also being promoted on a local level. The courts have been specially designed to provide players with the best possible 3x3 basketball experience. The modern surfaces and high-quality equipment of the facilities ensure optimal playing conditions.
We wish all players a lot of fun and success on the new courts at the Sportcenter Donaucity!
Galerie
SPORTCENTER DONAUCITY – Federal Railway Sports Club Vienna
Arbeiterstrandbadstraße 128, 1220 Vienna
Phone: +43 1 269 96 30 | Fax: +43 1 269 96 30 20
E-mail: office@sportcenter-donaucity.at
Chamber of Commerce: Vienna | Commercial Court: Vienna | VAT number: ATU16366304
BASIC DIRECTION
The website of Sportcenter Donaucity - Federal Railway Sports Club Vienna provides information about the company and its services. In addition, it reports on current events that affect the direct operation.
DISCLAIMER
No liability is assumed for the content of external links. The operators of the linked pages are solely responsible for their content. If, despite careful control of the content, it is found that there are links to pages with illegal content, we will remove these links from our website immediately.
IMPRINT | DATA PROTECTION | SPORTS FACILITIES REGULATION (German language only)
Copyright © 2022 Sportcenter Donaucity – Federal Railway Sports Club Vienna. All rights Reserved.